In 2014, engineers and design professionals downloaded over 50 million CAD models from TracePartsOnline.net
Saint-Romain, France – January 15, 2015 – TraceParts, a global vendor of 3D marketing solutions, has announced a sharp increase in the amount of traffic generated in 2014 by its free library TracePartsOnline.net, which boasts over two million registered design professionals.
TraceParts launched the TracePartsOnline.net website in 2001, giving millions of designers a gateway to a wealth of technical data on industrial parts and the possibility to freely download CAD models selected for their design projects.
With downloads up more than 20% in 2014, TracePartsOnline.net delivered over 50 million CAD models. This increase confirms the growing appetite among engineers and design professionals for downloading parts' CAD files. TraceParts already highlighted this trend during the second quarter of 2014 ( see the TraceParts press release of May 19, 2014), which reflects how the global race for innovation equates to shorter design and development cycles for new products.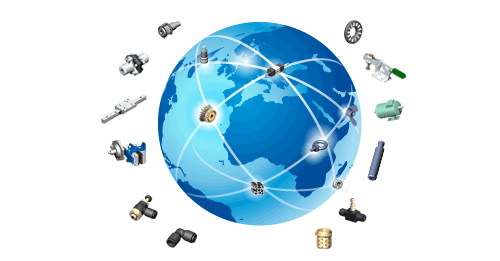 Numerous part vendors of electronic, electrical or mechanical components have already implemented online CAD file delivery solutions from their own websites, using TraceParts' technology and experience. Most of these companies have also published their technical data and 3D files on TracePartsOnline.net to substantially increase their exposure to their market and generate lists of new highly-qualified prospects.
In 2014, the TraceParts engineering platform attracted over four million unique visitors, peaking with six million page views in May 2014 alone.
Enriched every day with new industrial components, TracePartsOnline.net provides design and engineering departments with a choice of over 100 million technical data ready for download in 2D and 3D, compatible with all the most popular native CAD software.
"Our excellent results for 2014 confirm the value and trust that millions of designers around the world have placed in us. In just a few years, our TracePartsOnline.net website has set the gold standard for all design professionals, not just for access to the technical data available, but also for finding new vendors,"

adds Bertrand Cressent, Product Manager at TraceParts.
About TraceParts
TraceParts is a world-leading digital engineering 3D content company, offering progressive business solutions through powerful web based products and services. TraceParts brings targeted and cost-effective market penetration to parts vendors, in all sectors of industry.
The TracePartsOnline.net CAD portal is freely available to millions of CAD users worldwide, with hundreds of supplier catalogs and 100 million CAD models and product datasheets suitable for the Design, Purchasing, Manufacturing and Maintenance processes. For more information about TraceParts, please visit www.traceparts.com