CIMdata market analysis: CAM software producer OPEN MIND – An exception in terms of growth OPEN MIND bucks market trend
Wessling, Germany, 15 June 2010 –OPEN MIND Technologies AG is at the top of the list of leading global CAM software producers measured in revenue growth. The recently published "NC Software and Services Market Assessment Report" by CIMdata demonstrates OPEN MIND was the only leading CAM software producer able to increase revenue during the crisis year of 2009. With 150 employees, the CAM expert managed to expand its turnover from US$31.5 million to US$32 million in 2009. For 2010, CIMdata anticipates that OPEN MIND will improve in market shares and direct sales revenues from eighth to seventh place in a comparison of the world's leading CAM producers.

Although the NC software market shrank by a total of 15.5 per cent in 2009, OPEN MIND's annual turnover increased by 1.6 per cent over the same period. Furthermore, the CIMdata report predicted double-digit growth rates for the CAM specialist in 2010. Thanks to its streamlined structures and bundling of core competencies, OPEN MIND is the fastest growing company in its industry and has significantly overtaken its larger competitors.
"Thanks to the major commitment of our employees and our clear concentration on the independent development of CAD/CAM solutions for digital manufacturing, we were able to continue growing, even in a difficult market environment. This focus on our core competence streamlines our structures and improves our processes enormously," Hagen Rühlich, Technical Director at OPEN MIND, said of the success.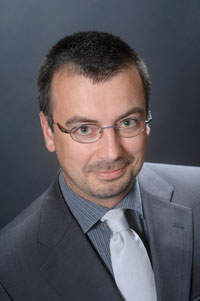 Hagen Rühlich, Technical Director at OPEN MIND.



About OPEN MIND Technologies AG

OPEN MIND Technologies AG is a leading developer of CAD/CAM software and postprocessors for designing and manufacturing complex moulds and parts. OPEN MIND offers an extensive range of products, from 2D feature-oriented solutions for milling standard parts through to software for 5axis simultaneous machining.
With their hyperMILL® software, which is used in the automotive, tool and mould manufacturing, mechanical engineering and aerospace industries, OPEN MIND Technologies AG is represented in all the important markets in Asia, Europe and North America.
OPEN MIND Technologies AG is a Mensch und Maschine company (www.mum.de).

Additional information is available upon request or from our website at www.openmind-tech.com.


OPEN MIND Technologies USA, Inc.
214 Garden Street, Unit 2
Needham, MA 02492
USA
+1 888 516 1232

OPEN MIND Technologies UK Ltd.
John Eccles House
Robert Robinson Avenue
Oxford Science Park
Oxford OX4 4GP
England
+44 1865 338 026

Head office:
OPEN MIND Technologies AG, Argelsrieder Feld 5, 82234 Wessling, Germany
Phone: +49 8153 933500, Fax: +49 8153 933501
E-mail: info@openmind-tech.com, website: www.openmind-tech.com