Expansion in the rapidly growing Scandinavian market
Wessling (Germany) 13 October 2010 – OPEN MIND Technologies AG continues to move forward with its growth strategy and has now opened offices in Gothenburg, Sweden. This move is intended to bolster on-site support for existing customers and to tap the potential of the Scandinavian market in a more targeted manner. The ultimate goal is to meet the needs of the Scandinavian manufacturing industries even more effectively.
In Gothenburg, OPEN MIND Technologies AG is implementing a strategy by having its own staff in place close to its customers and key industrial centres. OPEN MIND is represented wherever customers from the automotive, aerospace and mechanical engineering industries are manufacturing. As part of these efforts, the company has already established subsidiaries in other key markets in Europe, North America and Asia. To this end, OPEN MIND has recruited management-level staff and employees from the countries in question. This ensures the company is able to provide its customers with optimum advice and support while observing the different national practices. In countries where OPEN MIND is not represented, customers are supported by reliable and efficient partners.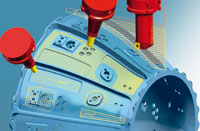 hyper
MILL®: The innovative CAM solution from OPEN MIN
Gateway to the high-tech region of Scandinavia
OPEN MIND will serve this fast growing region from its office in Sweden's second largest city. "The region's high concentration of manufacturing companies in automotive, aerospace, aeronautics, medical and mechanical engineering sectors represents a strategic advantage for our hyperMILL® product," stresses application engineer Daniel Simring.
In addition, Gothenburg's close proximity to Norway and Denmark makes it OPEN MIND's gateway to Scandinavia. "We are now able to fully serve our Scandinavian customers essential progress in advanced machining with a strategic location and higher attendance," explains Daniel Lagus, Key account manager.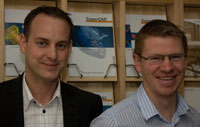 OPEN MIND Team: Daniel Lagus, Key Account Manager and Daniel Simring, Application Engineer


About OPEN MIND Technologies AG


OPEN MIND Technologies AG is a leading developer of CAD/CAM software and postprocessors for designing and manufacturing complex moulds and parts. OPEN MIND offers an extensive range of products, from 2D feature-oriented solutions for milling standard parts through to software for 5axis simultaneous machining.
With their hyperMILL® software, which is used in the automotive, tool and mould manufacturing, mechanical engineering and aerospace industries, OPEN MIND Technologies AG is represented in all the important markets in Asia, Europe and North America.
OPEN MIND Technologies AG is a Mensch und Maschine company ( www.mum.de).
Additional information is available upon request or from our website at www.openmind-tech.com.
OPEN MIND Technologies UK Ltd., Oxford Units 1 and 2 Bicester Business Centre Telford Road Bicester Oxfordshire OX26 4LD England Phone: +44 1869 290 003 Fax: +44 1869 369 429 E-mail:
Email Contact
Main Office North East (Boston)
OPEN MIND Technologies USA, Inc. 214 Garden Street, Unit 2 Needham MA 02492 USA Phone: +1 888 516 1232 Fax: +1 270 912-822 E-mail:
Email Contact
Head office:
OPEN MIND Technologies AG, Argelsrieder Feld 5, 82234 Wessling, Germany
Phone: +49 8153 933500, Fax: +49 8153 933501
E-mail: info@openmind-tech.com, website: www.openmind-tech.com
Press contact:
HighTech communications GmbH
Brigitte Basilio
Grasserstrasse 1c
80339 Munich, Germany
Phone: +49 89 500778-20
Fax: +49 89 500778-77
E-mail: Email Contact
Website: www.htcm.de